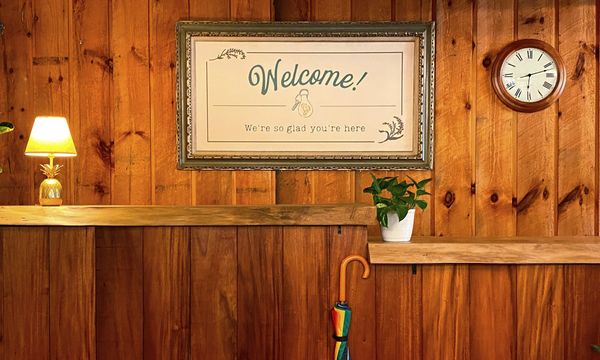 About Us
The Goldenrod Country Inn has been a fixture of Worthington, Massachusetts since 1987. Lush with the New England beauty that has inspired artists and travelers for over a century, the Inn offers guests warm, inviting accommodations.
Today, the Goldenrod Country Inn is a destination for weekenders, locals, weddings, and more. It's also the year-round home to innkeepers Aaron and Eric Frary, their pug Pippin, and the Goldenrod Goats.
Whether you're exploring the many miles of trails, discovering a local sugar shack, or gathering with friends old and new over drinks and farm-to-table fare, you'll find comfort, community, and connection that will leave you feeling refreshed.
Meet the Innkeepers
Eric's the one on the right holding the pug, and that's Aaron on the left. We've been married since 2016 and been on some wild adventures together — not the least of which has been renovating and opening The Goldenrod Country Inn. Running the inn together has been a dream come true for us, and we hope you'll choose it for your next adventure.
Read more about the Frarys in the Daily Hampshire Gazette.